Instant life insurance for instant peace of mind
What would happen if you, and your income, were no longer around to help make ends meet? If you don't have an answer, consider term life insurance.
Term life insurance is one of the easiest and most affordable ways to protect your loved ones. It's a type of life insurance policy with a pre-set amount of coverage that is guaranteed, so long as the premium is paid, for a certain amount of time or "term."
Direct Auto Insurance offers affordable term life insurance to fit your budget and needs. Buy a term life policy to help:
Replace a loss of income
Settle final medical and funeral expenses
Pay for daily living expenses, like rent and groceries
Cover school bills for college tuition
Why buy term life from Direct Auto?
You can go from term life insurance quote to policy in less than five minutes. Our affordable term life policies don't require a medical exam (just answer a few easy health questions).
For less than $1 a day, you can count on the following term life benefits from Direct Auto:
Up to $25,000 of coverage
Flexible payment options
No medical examination - just answer a few simple health questions
No waiting - approval times are quick and often instant
term life policies for you, your spouse, and your adult children*
Guaranteed renewal for two years at the same premium**
No additional down payment when bought with an auto policy from Direct Auto
Discount of up to 5% on auto insurance when you buy term life insurance and car insurance from Direct Auto†
How much does term life insurance cost?
Term life insurance rates vary depending on your age, location, term, and coverage amount. In general, paying for term life coverage is as easy as giving up one soda, cup of coffee, or a candy bar a day.
Check out the term life insurance rates chart below to see how cheap term life insurance can be!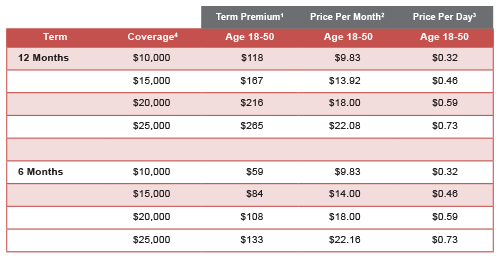 Get a term life quote today
Term life insurance quotes are fast and free. Get yours at a Direct Auto location near you or call 1-877-GO-DIRECT (1-877-463-4732) to speak with a caring agent today! We'll help you understand how term life insurance can help support your family's financial security.
Visit our Learning Center to read more about term life insurance in detail, how to calculate your coverage needs, and more.