Affordable life insurance for instant peace of mind
Term life insurance is one of the easiest and most affordable ways to financially protect your loved ones. It's a type of life insurance policy with a pre-set amount of coverage that is guaranteed, so long as the premium is paid, for a certain amount of time or "term" – meaning if you were to die during the term, your beneficiary or beneficiaries will receive the proceeds of your term life insurance policy.
Direct Auto Insurance offers affordable term life insurance to fit your budget and needs. A term life insurance policy payout can:
Help temporarily replace a loss of income.
Settle final medical and funeral expenses.
Pay off debt.
Pay for daily living expenses, like rent or mortgage payments and groceries.
Cover school bills for college tuition.
Leave money to charity.
Want a little more information about how a term life insurance policy can provide needed support during a difficult time? Check out this helpful infographic:
Why buy term life from Direct Auto?
You can quickly go from term life insurance quote to policy. Our affordable term life policies don't require a medical exam (just answer a few easy health questions).
For less than $1 a day1, you can count on the following term life benefits from Direct Auto:
Up to $25,000 of coverage
Flexible payment options
Approval times are often quick
Term life policies for you, your spouse and your children2
Guaranteed renewal for two years at the same premium3
No additional down payment when bought with an auto policy from Direct Auto4
Discount of up to 5% on auto insurance when you buy term life insurance and car insurance from Direct Auto4
What does "no medical examination" mean?
You may be able to get life insurance with no medical exam required. No medical exam term life insurance isn't actually a type of coverage; it's a way of underwriting that allows an applicant to get covered without undergoing a medical exam or invasive tests. It can be a nice option if you have a risky job or don't like going to the doctor and having bloodwork done. Please note, in most cases, a no medical exam life insurance applicant will still be asked to answer some health-related questions to qualify for a quote/policy.
It's worth noting that so called "no exam life insurance" isn't an option everywhere. Some insurers require potential policyholders to undergo a medical exam so they can more accurately price the applicant's premium and determine coverage amounts. Test results help them gain a better understanding of how risky it is to insure the individual in question.
How much does term life insurance cost?
Term life insurance rates vary depending on your age, location, term and coverage amount. Direct Auto Insurance can help you find a term life policy for less than $1 a day.
How does age affect the cost of term life insurance?
Generally speaking, the younger and healthier you are, the less you'll pay for a life insurance policy. As you age, you can expect to see term life insurance costs increase. It's worth noting that price increases are typically smaller at younger ages, though. For example, a healthy 35-year-old might pay slightly more than a healthy 25-year-old, but a 10-year gap later in life could see a more significant price difference.
Direct Auto Insurance is happy to answer questions you may have in your search for affordable life insurance. Give us a call or visit a nearby location today to talk through your options and get a quote.
How does coverage amount affect the cost of term life insurance?
Like any other type of insurance, the more coverage you select, the higher your premium. For example, if you want your beneficiaries to receive a $25,000 benefit instead of a $10,000 benefit, you can expect to pay more.
How does health affect the cost of term life insurance?
Even if you're trying to secure life insurance without a medical exam, embracing a healthy lifestyle can help you stay eligible for coverage and potentially save you money. Unless you're trying to get a guaranteed issue policy, you're likely going to have to answer health-related questions, like if you have heart disease or have been hospitalized for diabetes or high blood pressure.
Check out the term life insurance rates chart below to see how cheap term life insurance can be!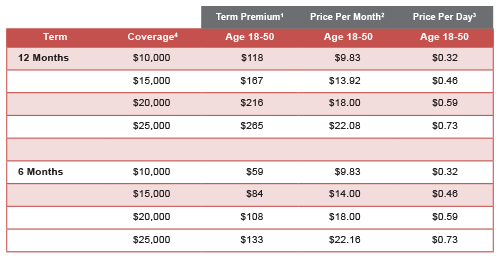 Get a term life quote today!
Term life insurance quotes are fast and free. Get yours at a Direct Auto location near you or call 1-877-GO-DIRECT (1-877-463-4732) to speak with a caring agent today! We'll help you understand how term life insurance can help support your family's financial security.
Visit our Learning Center to read more about term life insurance in detail, how to calculate your coverage needs, and more.