Let's say you have a driving record that isn't perfect (hey, it happens), and you're trying to get car insurance. You're probably wondering how your driving record could impact your ability to get quality, affordable coverage. Well, good news! Even if insurers consider you a high-risk driver, finding high-risk auto insurance is possible. So, if you're unsure what a high-risk driver is, if you are one, or what insurance options you have, keep reading to find out.
What Exactly Is a 'High-Risk Driver'?
When insurers determine your car insurance premium, they determine how risky it would be to insure you. Generally speaking, they classify drivers as low risk (less likely to file a claim or miss payments) or high risk (more likely to file a claim or miss payments). Regarding insurance rates, high-risk drivers typically pay more because insurers view them as a potentially greater liability.
How Do I Know If I'm Considered a High-Risk Driver?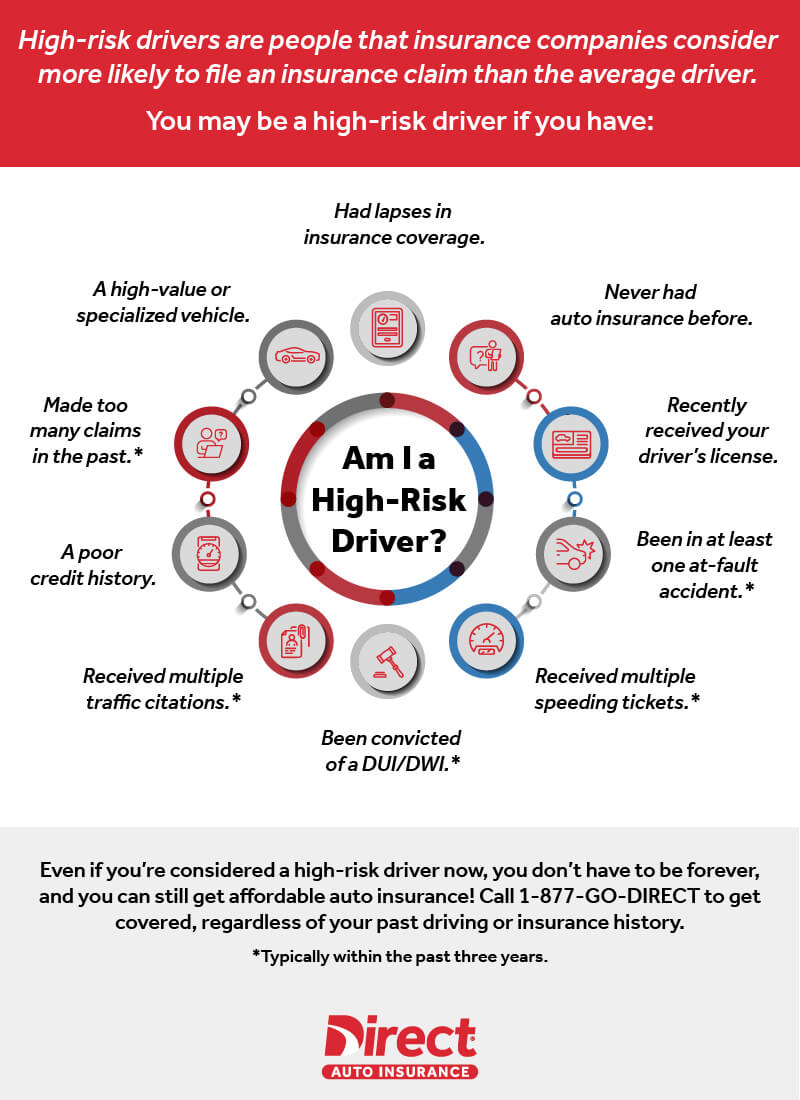 Did you know it's not just your driving record that can affect your risk status? The following factors could influence the way insurance providers look at you when it comes to insurance risk. The definition of a high-risk driver could include you if you have:
Recently received your driver's license
Been in at least one car accident that was your fault*
Received multiple speeding tickets*
Received multiple traffic citations*
Been convicted of a DUI/DWI*
A poor credit history
Had lapses in insurance coverage
Made too many claims in the past*
A high-value or specialized vehicle, such as a Lamborghini
Never had auto insurance before
Okay, I'm a high-risk driver. What do I do now?
Whether you've never been involved in a car accident or you've caused 20 of them, you need auto insurance to meet your state's minimum insurance requirements. But if you are a high-risk driver, you might also be dealing with additional requirements like an SR-22. Don't worry, though; there are companies (like Direct Auto) who can help you get the right coverage for your needs.
Affordable Car Insurance for High-Risk Drivers
How can I find an insurance company that accepts high-risk drivers?
Well, first, you should check around to compare companies just like you would in any other circumstances. However, you should start by checking out companies specializing in non-standard car insurance (which is probably what you're looking for). Do an online search for 'non-standard insurance companies' or 'high-risk driver insurance' and look for a company that can help you with your particular circumstances, provide flexible payment options, and give you discounts.
Can I actually get affordable car insurance as a high-risk driver?
You might be worried that high-risk auto insurance will be too expensive, and that's understandable. However, there are companies (like Direct Auto) that are willing to work with you to find great coverage and help you take advantage of any discounts or savings you're entitled to. Also, when you compare a premium to how costly it can be to drive without insurance, paying for a policy isn't bad at all.
How Long Are You Considered a High-Risk Driver?
Just because you're a high-risk driver now doesn't mean you will be forever. After a certain amount of time, driving penalties (accidents, speeding tickets, etc.) should fall off your record. Your insurer might also reward you for attending specific traffic safety schools or defensive driving courses to clean up your driving record. You might even qualify for a safe driver discount, eventually!
How Can I Avoid Becoming a High-Risk Driver?
Your best option is to avoid becoming a high-risk driver in the first place. While you can't control everything on the road, you can do your part! Here are some ways you might be able to avoid being seen as 'risky' in the eyes of insurers.
Connect with Direct Auto Insurance
Have more questions about high-risk auto insurance? Give us a call or stop by one of our more than 500 locations! We'd love to help you out!