Last updated: September 2022
It's getting late. The gentle hum of the engine is soothing, and you feel sleep sweeping over you. You know driving drowsy is dangerous, so you pull over and decide to take a little cat nap. However, depending on the state you're in, and where you park, that quick cat nap could be interrupted by flashing sirens and a cop tapping on your window!
Is it illegal to sleep in your car everywhere? Not exactly. Laws against sleeping in your vehicle vary state to state and apply under certain conditions. And while getting some shut-eye inside your car isn't necessarily illegal, it's where you are parked while you sleep that can get you in trouble. For instance, many parking lots, private garages, and even public areas ban overnight parking — with or without sleeping people onboard.
So, if you're feeling drowsy behind the wheel and want to catch some Zs before hitting the road in one of these states, you may want to be extra cautious.
Florida
Are you taking a drive through the Sunshine State? If that drive has you feeling drowsy, you should have a good plan for lodging in case you need to rest up. Some parts of Florida, such as the Keys, make it illegal to sleep in your car anywhere. In other parts of the state, it depends. Many state highways prohibit pulling over and snoozing on the shoulder since it is reserved for emergencies and crashed vehicles.
The Florida Department of Transportation offers rest stops where travelers can stop and recharge for up to three hours, but don't stay too long or you could get a ticket!
Where can you sleep in your car in Florida?
If you do need a place to crash in your car while in Florida, you might try some 24-hour retail stores such as Walmart. Some locations welcome truck and RV drivers to spend the night if parking space is available. But be sure to call ahead and check if sleeping is allowed before you set up camp.
Georgia
Though there is no official state law saying you can't sleep in your car, you should be extra wary when deciding where to pull over and doze in Georgia. Make sure you aren't trespassing or parked somewhere you shouldn't be, whether you're sleeping or not. Like in Florida, Georgia highway shoulders are off-limits to sleepy drivers and reserved for emergencies only.
Where can you sleep in your car in Georgia?
Since Georgia rest stops prohibit overnight parking and camping, you'll have to find legal alternatives. Certain Walmart parking lots allow overnight parking. Call ahead to make sure. But if there isn't a Walmart within a reasonable distance, you might still be able to squeeze in a dedicated truck stop or 24-hour gas station. In such cases, you're probably better off staying at an affordable hotel or motel nearby. Maybe a pet-friendly hotel if you have your pup with you?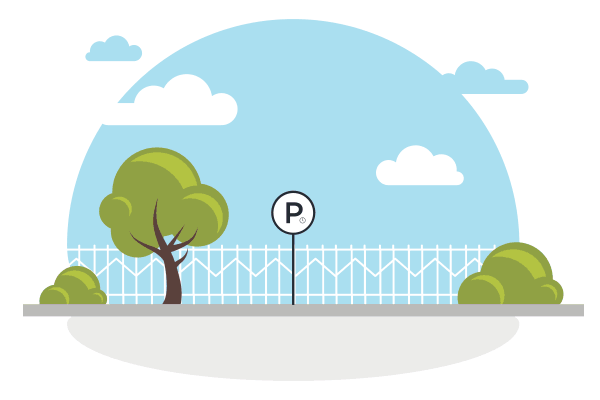 North Carolina
Both North and South Carolina prohibit overnight parking at rest stops. Moreover, North Carolina limits rest stop parking periods to a four-hour maximum. This strict time limit means you'll have a hard time getting a good night's sleep. Additionally, most cities in the Carolinas make it difficult or illegal to stay parked anywhere for more than a few hours. And if you're caught sleeping, you'll almost certainly be told to move it along.
Where can I sleep in my car in North Carolina?
If you need a place to pull over and rest in the Tar Heel State, your options are limited, with the best one being to find a hotel room or crash at a friend's place. As in other states, some retailers will allow you to stay overnight as long as you call ahead and get permission. As far as other legal options, sleeping in your car is allowed on private property (with the owner's consent).
Tennessee
According to Roundabout Publications, Tennessee has the shortest time allowance for rest areas at a three-hour stay limit. Overnight parking and camping are also not allowed, which makes this state particularly tough for sleepy drivers. Many Tennessee cities also prohibit sleeping in cars on public and private property, so public parks and private parking lots are off the table.
Where can I sleep in my car in Tennessee?
Options are limited if you want to sleep in your car in Tennessee. Some 24-hour retailer and church parking lots might be a safe place to get a quick nap in, but you won't want to stay for too long since staying the night in your car is illegal in many localities.
Other States
During a long road trip, pulling over and taking a quick nap might seem like a good idea, but depending on the state you're in, it's best to wait for a rest stop to plan your next move.
Regardless of where you are, getting a hotel is typically your best option. Still, if it's not financially viable, you can consider rest stops, truck stops, retail parking lots, and even empty campsites. No matter which of these options you choose, always check local laws or get permission from property owners/managers before car camping.
Finding a safe and legal place to car-camp for the night can certainly be a great way to save a few bucks rather than shelling out money for a hotel room. But sleeping in your car isn't the only way to save money. With plenty of car insurance discounts and affordably low prices, Direct Auto Insurance can help you save on the insurance you need. Call, click, or come in today to learn more.