Last updated: August 2022
There are three things every driver needs to drive legally: license, registration, and proof of financial responsibility (in most cases this means auto liability insurance). We know we need car insurance to drive, but what exactly is proof of insurance, what information is on a proof of insurance card, and how do you get it?
Keep scrolling to learn more about proof of insurance, and refer to our handy graphic for more details.
What Is Proof of Insurance?
Proof of insurance is the card your insurance company gives you that says you have coverage on your vehicle. It's sometimes called an insurance identification card.
Insurance companies typically issue two paper proofs of insurance per vehicle: one to have in your car at all times, and one to keep on hand. For instance, you need to show proof of insurance to register your vehicle or renew your license plate.
It is the law to carry proof of insurance in the vehicle you are driving. A paper ID card is the norm, although almost every state allows electronic/digital proof of insurance that you can access via smartphone.
There is no substitute for a proof of insurance card. Some states may accept a copy of your current declarations page, but many will not. A payment receipt will never count as valid proof of insurance.
What Information Is on a Proof of Insurance Card?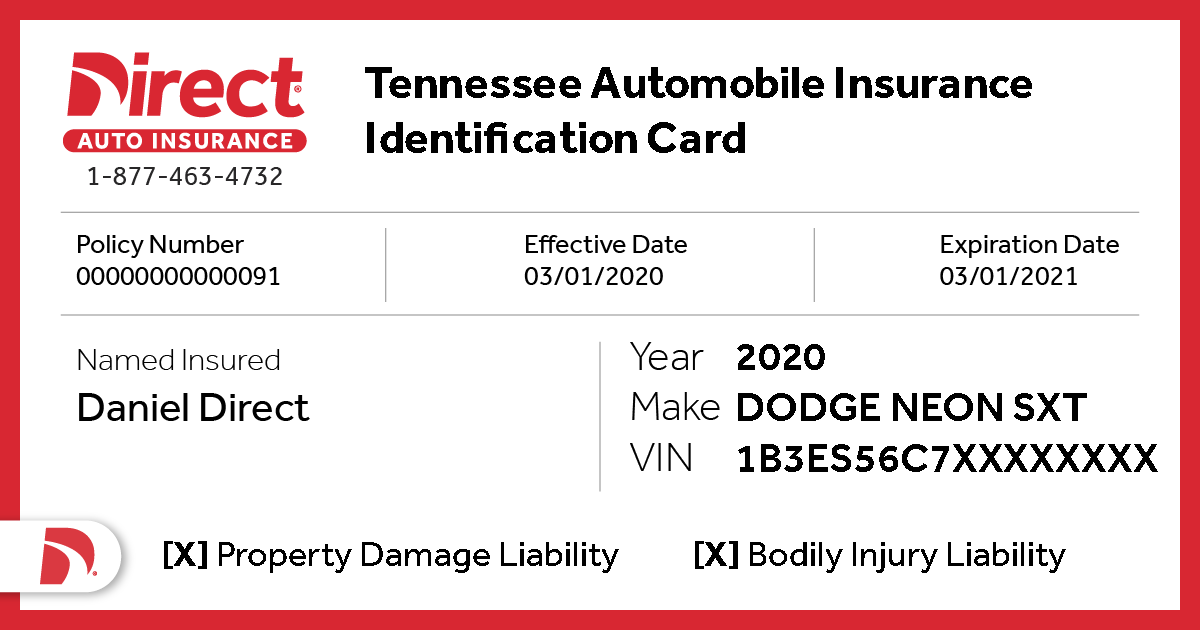 Proof of insurance cards look a little different from company to company, but there is some general information you can always expect to see:
Insured's name and contact information: the insured is the policyholder. If the policy is not in your name, you may be listed as a covered driver, but not always.
Vehicle information: year, make, and Vehicle Identification Number (VIN)
Policy dates: including the policy start date and expiration date
Policy number: your unique policy number that you'll need to file a claim
Insurance company name and information
How to Obtain Proof of Insurance
A proof of insurance card is usually delivered or mailed to you in the same package as your insurance declaration page and other policy information. You typically receive paper proof of insurance when you purchase a new policy and with every renewal via mail.
You can also request a paper proof of insurance card by contacting your insurance agent or customer service, or download and print your proof of insurance documents from your online account.
What is Electronic Proof of Insurance?
In addition to paper proof of insurance, most insurance companies offer access to electronic proof of insurance through a mobile app or digital download. Drivers are permitted to show electronic proof of insurance during a traffic stop in most states.
You can get a pretty steep ticket for not being able to show proof of insurance if you get pulled over. Being able to share it electronically is a lifesaver!
How to Replace a Proof of Insurance Card
Lose your insurance card? Contact your insurance agent or customer service immediately. You can get new paper proofs mailed to you, and it's also easy to quickly access your card electronically.
What if you notice an error on your insurance card? Contact your insurance agent or customer service to make any updates to information, like if you need to change your address or notice a typo in your vehicle's VIN. You might be able to make changes to policy information through your online account – it all depends on your provider.
Whether you're a Direct Auto customer and want help accessing proof of insurance, or you're curious about our flexible, affordable car insurance policies, we're here to help. Contact us online, over the phone at 1-877-GO-DIRECT (1-877-463-4732), or visit a Direct location near you.