It's no secret that traffic collisions and auto insurance claims can cause stress. But learning what to do immediately after an accident and what to expect from the claims process can help prevent you from feeling overwhelmed. Here are some steps to follow and things you should know to stay safe and file a speedy claim.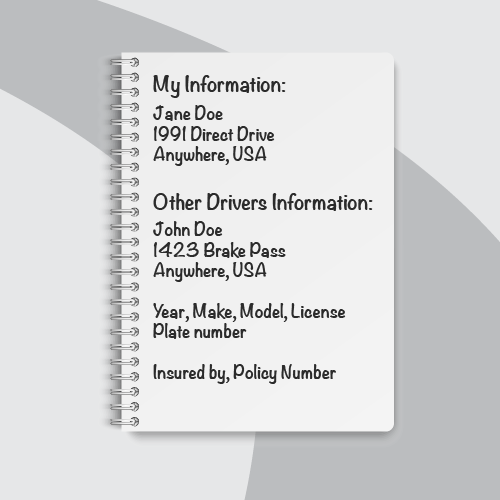 Steps to Follow After an Accident
Collect yourself, turn on your hazard lights, and check for injuries. Don't move an injured person or exit the vehicle unless it's safe to do so.
Call 9-1-1 if someone needs medical attention or to request police assistance. Follow the 9-1-1 operator's instructions.
If there are no injuries and it's safe to do so, move the vehicles to get them out of the roadway.
Take pictures of the damage on both vehicles, making sure to capture the license plates, weather conditions, surrounding damage, nearby traffic signs, and time of day.
Exchange the following information with other drivers: full name, address, insurance carrier information, and insurance policy number. Also get the year, make, model, and license plate number of all vehicles involved.
If you don't have a pen and paper readily available or you prefer a digital record, use your phone's camera to take pictures of their insurance card, driver's license, and registration. Make sure to also collect names and contact information from any passengers and witnesses at the scene.
If law enforcement authorities are present, get your police report number and leave the scene when you're cleared to do so.
Contact your insurer as soon as possible. Direct Auto is available 24/7 for new claims!

Filing a Claim & What You Need
1. Paperwork
Your Direct Auto policy number
Accident details, photos, and police report, if available
The names, contact information, and insurance information of drivers
The names and contact information of any passengers and witnesses
2. Your Vehicle Info
Year, make, model, and color
The vehicle identification number (VIN)
The license plate number
A description of the damage to your vehicle
The location of the accident
3. Other Vehicle & Driver Info
You should have all relevant information if you snapped photos of the other driver's insurance card, driver's license, and registration. You'll be asked to provide:
The other driver's full name
The other driver's address
The year, make, and model of their vehicle
The other driver's insurance carrier information
The other driver's insurance policy number
The Direct Auto Claims Process
You can file a claim by…
We'll ask you some questions to obtain the necessary information to file the claim and give you a unique claim number. You'll then be assigned a claims representative who will contact you with more details.
You may need to digitally upload or send documents (like a police report or photos from the scene) to your claims representative.
How to Check Claim Status
Call 1-800-403-1077 and be prepared to provide your claim number and the name of your claim representative for a status update. You may also contact your assigned claims representative directly, in MyAccount by clicking "Claims Center" in the navigation menu, or with our live chat option. Simply provide the details of your claim to our virtual assistant in chat 24/7. Or, for any other claims-related questions, live chat representatives are available Monday through Friday from 8 am to 8 pm EST.
If you would like to learn more about claims, visit directauto.com/claims.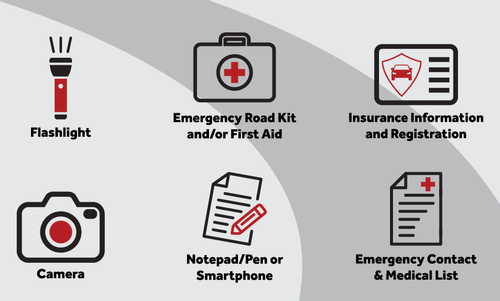 What to Keep in Your Car
Keeping these items in your car could help you in the event of an accident:
Flashlight – In case you're involved in an incident at night or are stranded after an accident.
Emergency Road Kit and/or First-Aid Kit – Emergency road kits typically include devices such as reflective triangles, traffic flares, or similar warning lights that will alert other motorists to approach with caution. A first-aid kit will help you quickly take care of minor cuts and scrapes.
Insurance Information & Registration – To exchange with other motorists and provide proof of insurance to police officers.
Camera – To document damages and injuries.
Notepad/Pen or Smartphone – To take down any necessary information about the accident. You can also use your phone to snap a picture of the other drivers' license, registration, and insurance card.
Emergency Contact & Medical List – In case your family members or doctors need to be contacted.